DIRECTOR'S STATEMENT:
What's it take to write a good horror script?

Blood, sweat and tears.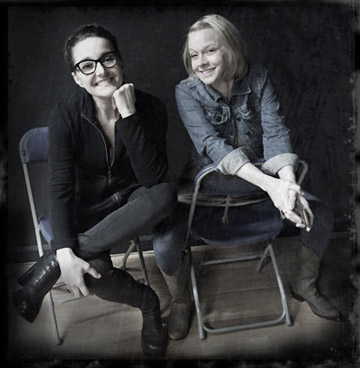 Severed Silence sprouted out of our love of the horror genre and our desire to write a compelling story; one that was scary as hell of course, but also one with lots of color and intelligent layers. For five years (yes you read that right) it morphed into many different versions, but no matter what face it took, we still couldn't find the story's heart. So we eventually, and sadly, put it to rest... until one day, a single song turned everything around. The Romani national anthem, Djelem Djelem. Suddenly a heart presented itself and our shelved story was dusted off and had new life!

Incorporating the Romani culture into our story was the key. The rich history, folklore, music, and mysticism turned out to be our muse. It encouraged us to learn more about their beautiful traditions and to shed some light on their widely misunderstood people. We delved through books, documentaries, and movies, soaking up everything we could. This provided us endless inspiration to create a story that we hope will not only haunt dreams, completely seduce, inspire belly dancing, but one that will also make you want to run for your life in horror!

While the Romani culture is our backdrop, the core of Severed Silence tackles the complex topics of betrayal, ruthless revenge, desperation, and family secrets... buried six feet under *wink. However, woven in is also a tragic love story. While we have our standard antagonist and protagonist, our characters are all loved and hated the same. True to life, all of our characters are faulty, and have made some grave mistakes. In protecting themselves, our characters actually become their own prisoners. No one is safe in our story, because the true enemy is unknown. As our characters find themselves running from a deadly curse, they are faced with some thorny questions - - Who knowingly unleashed the curse? How do I survive through the night? Who in my family is trying to kill me?

As we are about to engage in some pretty grueling months of crowdfunding, we will pull energy not only from the love of this story we created, but from the desire to get this on screen for our horror fans, and from an occasional play of Djelem Djelem!

We have created many projects together since 2002... but most importantly, we have created an unbreakable friendship. We accepted a filmmakers award last year and the first thing we did was hug and say "thank you" to each other. We create stories because we are storytellers and we love what we do. Our first step onto the set of Severed Silence will deserve another hug and "thank you," but not just to each other this time, it will be also to our amazing fan base!